Website Design
Erika Holmes
Website copy that stands out for bold personal brands who refuse to blend in.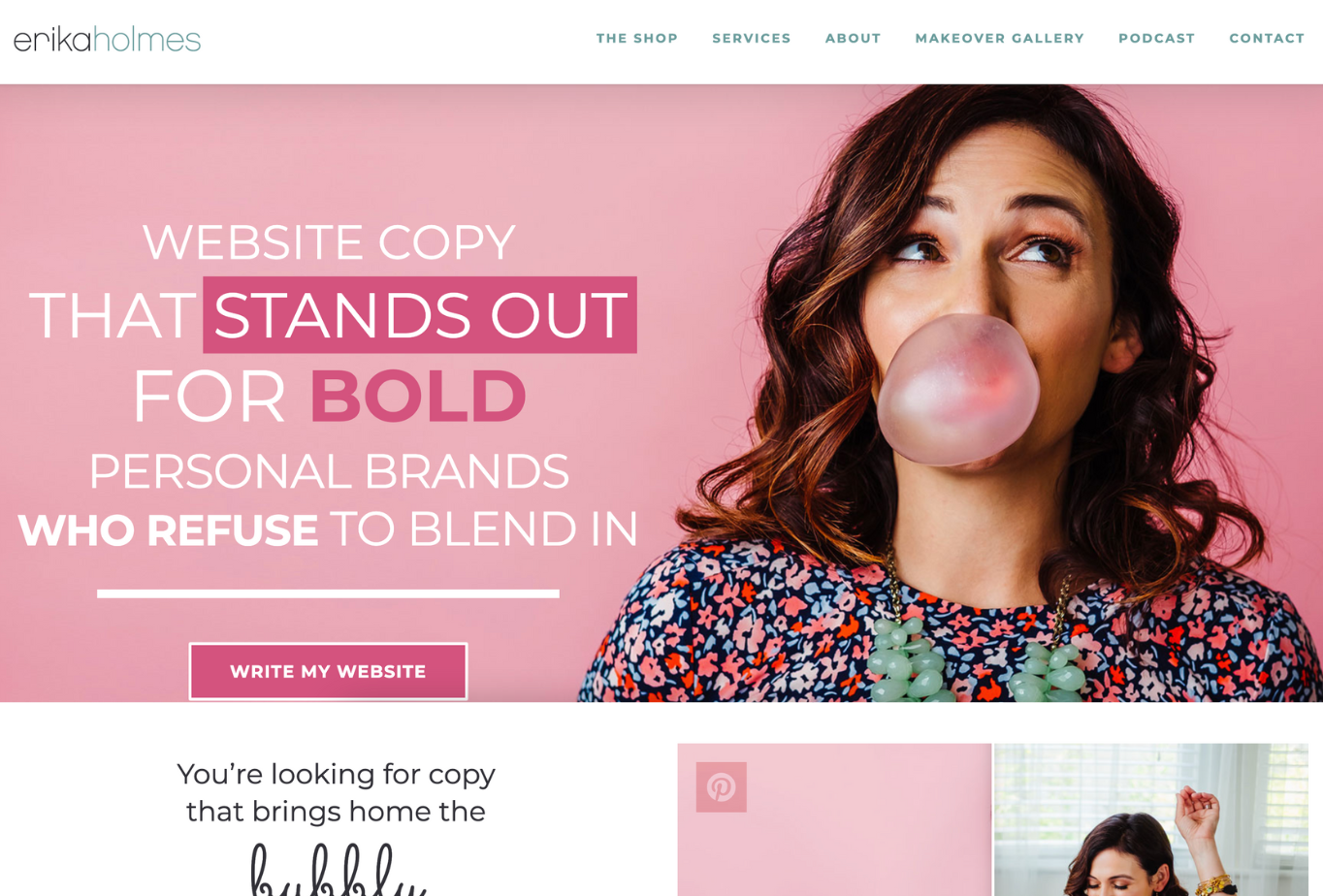 Erika Holmes helps entrepreneurs and personal brands inject heart and humor into their brand messaging, website and email copy
Scope
Design
WordPress Development
Responsive Design & Optimization
Project Scope
After being in business for five years, copywriter Erika Holmes was ready for a brand new website look and feel. Erika specializes in writing website and email copy for personality-driven brands.
Her goal was to create a vibrant, playful home on the web that attracted her ideal client, showcased her website copy skills and inspired visitors to linger on each page. We created interactive elements throughout the site to encourage longer visits and funneled people toward booking a call or signing up for her email list on each page.
Challenges and Solutions
Bold color and font choices played a big role in bringing this vision to life. An interactive slider on the home page invites users to get a feel for Erika's personality. Each section was purposefully designed to guide users toward their next step.
Photography played a large role in the design success of this website. Erika had a look in mind when she sent us her photos and we loved the energetic vibe that they provide to the overall design and layout.
As Erika's website guides you through meeting her and understanding her services, it was important to her to generously scatter calls to action throughout the site. Each section of the site brings you to learn more about her and services and to find what menu item is right for you. And, if you are not quite ready to take the plunge, she's included a few freebies in for visitors as well. Whether a visitor signs up to take a quiz or to learn how to write their own website copy, these important call to actions help Erika to build a qualified email list and to create a inbound marketing lead generation funnel destined for success!
Summary
More Projects
Rachel McFadden
2023-02-02T11:09:02-05:00
Website Design Synagro Your partner for a cleaner, ...
Rachel McFadden
2023-02-02T10:47:27-05:00
The nation's largest move management provider.
Ready for a website that gives your prospects all the confidence they need to choose you?