Website Design
Alexandria Auctions
A place where stories are as important as the treasures.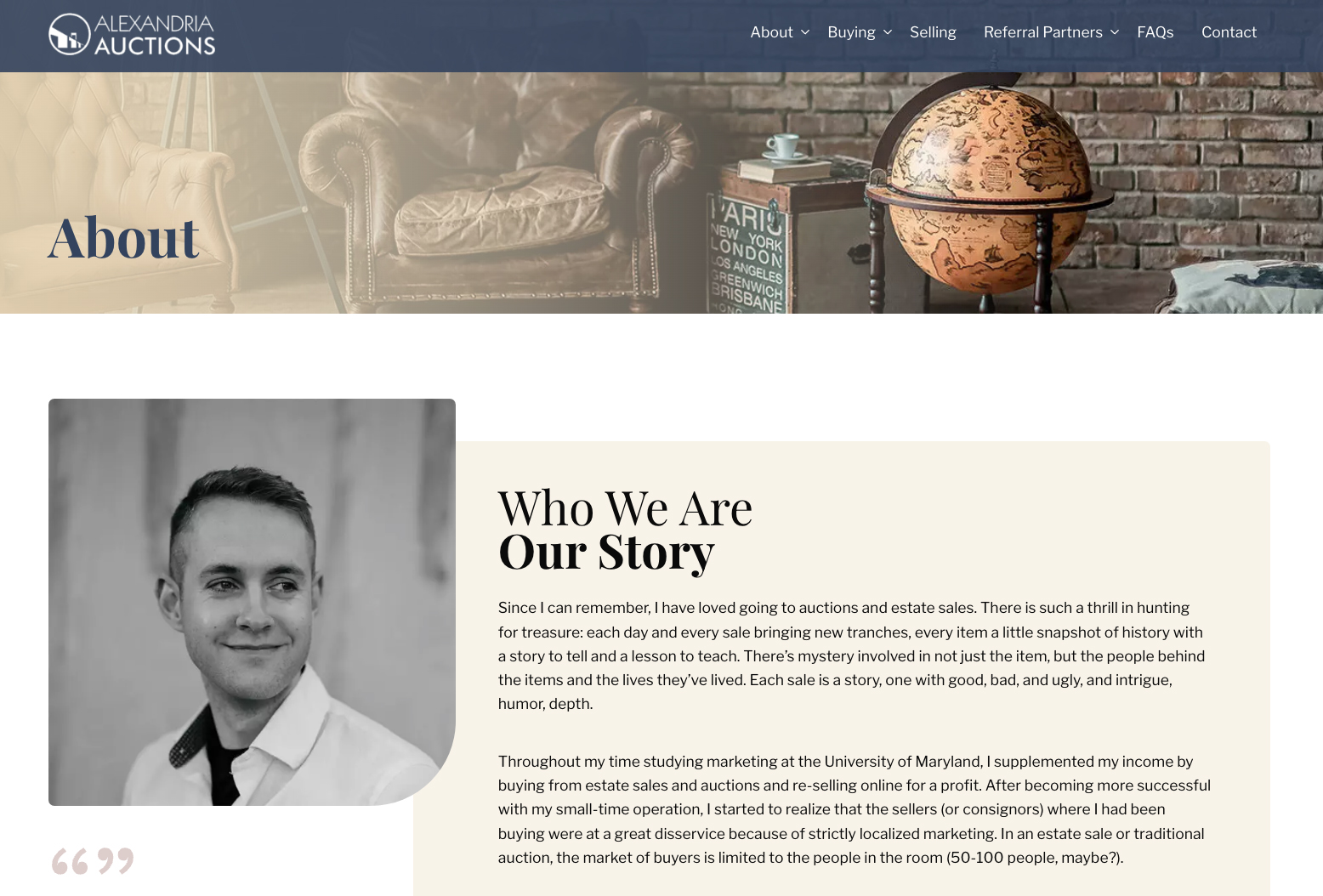 Alexandria Auctions is an online auctioneer based out of Alexandria, VA. The founder, Josh Wilbanks was looking for a better way to service consignors on a larger scale, to a worldwide audience.
Scope
Design
WordPress Development
Responsive Design & Optimization
Team Training
Project Scope
Traditionally, an estate auction is limited to local buyers or, quite literally, the buyers in the room at an auction. Alexandria Auctions meets the needs of the consignors by giving them access to a wider web-based audience. It also gives them the flexibility to sell a single item or an entire estate.
Before working with Drio, Alexandria Auction's home was a simple transactional website where users could upload items to sell as well as place their bids. Josh came to Drio through a Move Manager, one of our clients and one of his industry partners. He loved the simplicity of their website and was looking for a company to create a simple, easy to understand website for his clients (most of whom are baby boomers or older). He wanted the new website to exude professionalism to sellers, and excitement to buyers.
Features:
Full Website Redesign
Custom created vlog (video blog)
Pre-designed landing page for specialty sales
Challenges and Solutions
The transactional website that Alexandria Auctions called home was not connecting with their customers on a personal level. With this new site, we added a retro vibe with fresh colors and fonts to stand out and infuse personality.
The site is built on WordPress and, with the help of our tutorial videos, the client will be able to add pages for new specialty sales and keep content fresh. They'll also be able to activate a pre-built a vlog (video blog) to tell the stories behind the treasures that they are selling. Their transactional website will continue to be used for all of the bidding and selling, but now it sits behind a much more refined "store-front".
Summary
The new design incorporates a simple navigation, easy to find content and step by step instructions, making consignment a breeze.
As part of our process, we identify the pages a website needs to align with all audience groups. Not only does Alexandria Auctions work with buyers and sellers, but they also partner with estate planners, move managers and real estate agents. By highlighting their partnerships and partner testimonials, it makes it easy for future partners to consider Alexandria Auctions.
More Projects
Rachel McFadden
2023-02-02T11:09:02-05:00
Website Design Synagro Your partner for a cleaner, ...
Rachel McFadden
2023-02-02T10:47:27-05:00
The nation's largest move management provider.
Ready for a website that gives your prospects all the confidence they need to choose you?